Originally posted on Wide Open Pets by Amber King
Affecting approximately 20% of Operation Iraqi Freedom and Enduring Freedom veterans, Post Traumatic Stress Disorder (PTSD) is a growing epidemic.
Soldiers, airmen, marines, and seamen leave the service only to face an enemy they didn't see coming. PTSD interferes with everyday life causing depression, anxiety, and other mental health problems. Thousands of veterans struggle with this disease on a daily basis, but an organization called Parrots for Patriots is determined to help.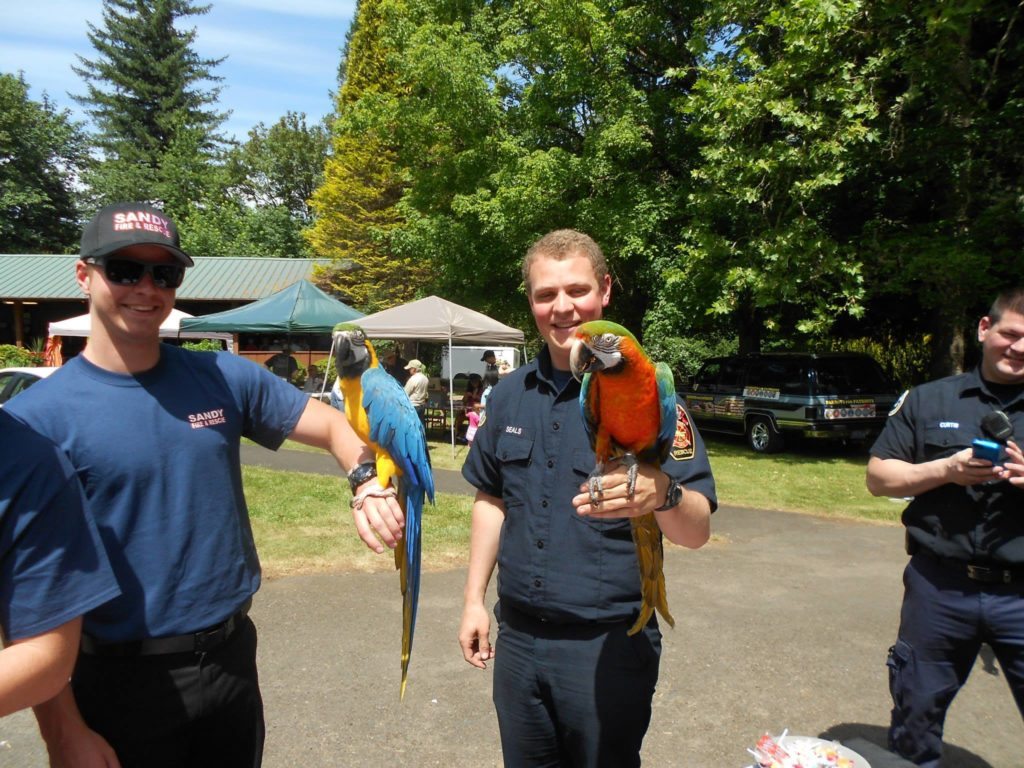 For years after retiring from the Marines, Douglas Ladd of Portland, Oregon experienced PTSD side effects including anger and emotional issues. Traditional coping methods failed to make a difference, but then he met a cockatoo named Cleopatra through Parrots for Patriots.
He told TODAY:
"You can't get mad at her because she's a bird. People you can get mad at, because they're supposed to know better."
Cleopatra has helped Ladd manage his emotions, and he's formed a special bond with his feathery friend.
"If I'm in the other room and Cleopatra keeps squawking, I tell her, 'I see you, I see you,' and when she gets tired of me saying that, she says, 'Whatever,' because she wants me to come back to the room."
Founder of Parrots for Patriots, Chris Driggins, is also a veteran. He explains that birds "demand normalcy," something that many veterans struggling with PTSD desperately need.
"They help you fall into a pattern–get up at this time, give me a treat at this time, give me TLC. Then you find yourself in a normal routine again."
Dogs, and even cats, may be more known for aiding struggling veterans, but Driggins recognizes how birds offer comfort and support that no other animal can. Birds–especially parrots–are known for their intelligence. They can respond verbally; this popular TED Talk shows an African Grey parrot with an impressive vocabulary and the ability to respond to questions.
Parrots are needy in a way that gives their owners a sense of purpose and responsibility. Birds also live longer than dogs and cats. Paul Thomas, an Air Force veteran from Battle Ground, Washington, explained the reason behind why he adopted his first bird:
"I got tired of burying my dogs. (For veterans), that loss can be hard. It brings up a lot of things."
Many parrots can live to be 80 years old, but their long lifespans also contribute to why there are so many rescue birds. The birds outlive their owners, and there's nowhere for them to go. Through his work with Parrots for Patriots, Driggins aims to help both abandoned birds and struggling veterans. The organization is founded by Northwest Bird Rescue of Vancouver, Washington.
Since launching the project in 2015, he's connected about 90 companion parrots with disabled veterans. Many of the birds have been abused and neglected, and Driggins is committed to giving them a new start with a new purpose.
When a veteran comes to him interested in adopting a bird, they're asked to fill out a questionnaire and to take an education class. Driggins then selects a bird he feels would be the best match. The bird and the veteran meet multiple times before the adoption is made official. According to Driggins;
"It's really up to the bird."
From there, a lifelong friendship is formed.
Parrots for Patriots partners with the Department of Veterans Affairs and a number of sponsors to make their services available and financially affordable for veterans throughout the Northwest. They're always looking for more sponsors and volunteers, so if you'd like to contribute to their cause you can visit their website.